The comments below are from LA and Bay Area actors and others. Comments about Stan's classes at SFAA can be viewed on the SF Acting Academy Yelp Page.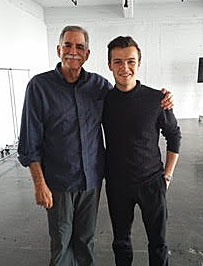 "I worked with Stan during a seven-day intensive acting workshop in LA.  I was amazed by his positive energy and motivation.  He pushed every student to their very best performance.  I got personal results in acting that I've never achieved before and the best of it is, now I know how to get there myself."
     – Juri Senft, International Academy for Film Acting (May, 2017)
"Hey, Stan, the good news is that I just got my first big role in a television movie on the biggest German TV network but what's most important is that I won the casting following your audition preparation workshop, so thank you one more time for your work and inspiration.  Best, Juri" (email sent September, 2017)
"Hey 

Stan

, I've been added to the main cast of  "13 Reasons Why," season 3, largely attributed to your help with my audition and I can't thank you enough."
     – Austin Aaron, actor
"I wanted to give you an update on that film you helped me audition for.  They reached out to me this morning and offered me the role.  I'm so thankful to you for taking the time to work on my audition with me.  That played a big part in getting me the role."
     – Cameron Matthews, actor

"Stan teaches you how to become a complete actor. He teaches you how to really "go there" emotionally in order to achieve the maximum results and he accommodates each actor's individual needs. Because of Stan, I feel equipped to tackle any sort of acting challenge." 
     – Michael Soulema, actor
"Stan is especially effective at helping actors develop the fundamental ability to behave truthfully in imaginary circumstances and learn to trust their own honest instincts.  His manner is friendly and unpretentious and his work is greatly enhanced by his extensive experience as both an actor and director."  
     – Lisle Wilson, Educational Director of the American Academy of Dramatic Arts West, 12 years 
"Stan's great because he gets to the point and he's honest.  He doesn't tell you what you want to hear, he tells you what you need to hear" 
     – Kristian Capalik, actor 
"Working with Stan Roth has helped me find my voice as an actor, along with simplifying everything I do in my work.   He's really helped me find ME as an actor." 
     – Josh Fallon, actor
"I've studied with Stan for 3 years and learned a myriad of skills, most importantly how to breathe and trust my own instincts.  He pushes in every class but somehow it's always also fun.  I value the personal attention he provides, the discipline he enforces, and that he's taught me how significant the art of acting can be."
     – Vanessa Barco, actor
"Stan is an insightful, caring teacher who is passionate about helping actors realize their full potential."
     – Jon Smet & Jan Bina, casting associates
"Thanks so much, Stan!  After your coaching for the soap audition, I was called back, and now they're flying me to New York to screen test for the role.  It wouldn't be happening without the confidence I gained by being so prepared for the audition!"
     – Stephanie Dees, actor
"Stan pushes me to explore every aspect of a character in order to present a solid and well-rounded performance.  The techniques he teaches produce results on a consistent basis.  As a result, I have booked a variety of acting jobs, from commercial to theatrical, and created a solid foundation on which to build my career."
     – Barbara Wrzos, actor
"Stan makes you work hard, dig deep, go further, and always tell the truth.  He gives you permission and creates a safe environment to risk.  Working with Stan makes you feel inspired, challenged, and excited about the work."
     – Emily Adams, actor
"Stan has taught me the real secret behind being an actor: self discipline and hard work.  By pushing me beyond my limits further than I could have imagined and by allowing me to trust my instincts through intensive scene work, I developed an inner strength and confidence in my abilities that I carry with me to every audition and every project I work on.  And by teaching and encouraging me to reach for more, I learned the invaluable lesson of creating the work for myself to make more opportunities available."
     – Brandon Williams, actor
"Thank you, Stan.  I am thrilled to be in this play (THE WIND CRIES MARY at East/West Players) and your coaching helped me get the part.  You rock!"
     – Jamila Abdullayeva, actor
"I'd recommend Stan to anyone interested in learning the art of acting. He is enthusiastic, passionate, and a great teacher.  Stan, you're the Man!"
     – Mark Woods, actor
"Stan is a passionate teacher and director who consistently challenges actors to achieve their best work.  Working with him is a memorable – and valuable – experience."
     – Amber Lopez, actor
"Stan's coaching is an important part of my auditioning process in that each time he has worked with me before an audition, I've gotten at least a callback."
     – Albert Soulema, actor
"I honestly can't describe how valuable Stan's classes have been for my acting career. I've made enormous leaps in my auditions and performances after just a few months of coaching. There isn't a class that offers as much attention, instruction, or work as Stan's class."
     – Aiden Marus, actor
"I got your email from your website and hope you don't mind me writing you.  I was a big fan of The Judge when it was on the air.  I was in college at the time and couldn't wait to get home to watch it.  You brought me a lot of joy and I wanted to thank you.  I really enjoyed you as Marvin the defense attorney and I know it must bring you a lot of satisfaction teaching young actors and I take my hat off to you. Best wishes and don't feel you are forgotten."
       -- Sergeant David Tucker, US Army, retired (email sent April, 2019)